Main content starts here, tab to start navigating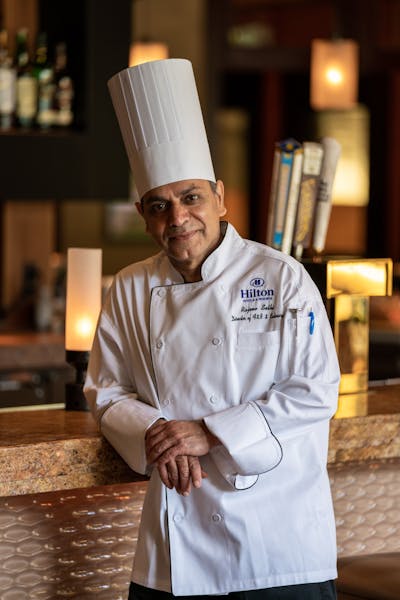 Rajeev Sethi
Executive Chef
Upon graduating from Institute of Hotel Management and Nutrition in his native India, Rajeev attended Ecole Hotelier in Lausanne, Switzerland for food production techniques leading to an advanced culinary apprenticeship at Hotel Glockenhoff in Zurich Switzerland.
He then travelled to work at the prestigious London Hilton on Park Lane and subsequently moved to Amsterdam, Netherlands to work for the Marriott international culinary team.
Love of travel and culinary curiosity took him next to Montreal, Canada to The Queen Elizabeth Hotel under the aegis of Maitre Chef Albert Schnell, only to return to more traditional culinary establishments in Paris and Belgium such as Ecaillers du Palais Royale, Maison du Boeuf and Michelin chef Chez Divellec for further training.
Toronto's harbor castle Hilton and its signature restaurant Chateauneuf was his next stop leading up to The Vista International in Washington DC as an executive Chef and finally moving to the Hilton Alexandria Mark Center, Virginia.